More Website Templates @ TemplateMonster.com. May 21, 2012!
Orgnic Photovoltaics
The unique properties of this environmentally friendly, custom-made solution is capable of making virtually any surface active, regardless of its shape or material. 1-solar will develop and produce these solutions on an industrial scale, in Canada and China.:
Orgnic Photovoltaics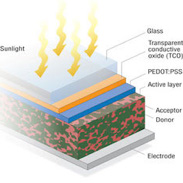 As a result of many years of research and development, Our organic photovoltaic (OPV) film is a breakthrough solar solution for the energy transition challenge.
Our OPV solutions are able to operate at lower light intensity levels than other technologies. This unique property makes it very suitable for indoor applications or building facades in particular.
Our products can withstand a high level of torsion, deformation and vibration without any impact on performance or durability. Thanks to this feature, it can be used on curved or wavy surfaces.